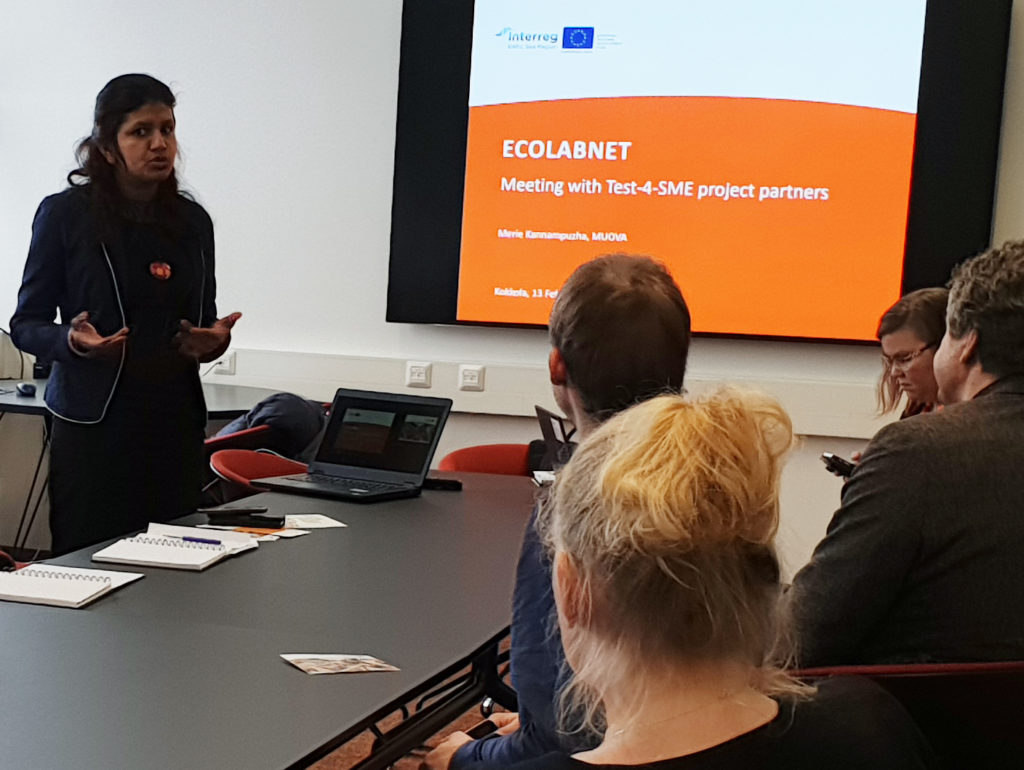 Writer: Merie Kannampuzha, Vaasa university of Applied Sciences, Design Centre MUOVA.
Kokkola, Finland, February 13, 2019
Ecolabnet aims to develop a network of experts in the Baltic sea region to supporting manufacturing SMEs. The aim is to increase their competences in eco-innovations. As part of this strategy the project will collaborate with several other parallel running projects.
On February 13th, Ecolabnet team members Merie Kannampuzha and Tommi Silvan travelled to Kokkola to present Ecolabnet project to the project partners of Test4SME. Ecolabnet team members visited the laboratories on the premises on Centria University of Applied Sciences who is also a partner in Ecolabnet.
The project partners presented the Test 4 SME project. After networking lunch, Merie Kannampuzha presented the Ecolabnet project to the Test4SME partners. Both aprties agreed that the two projects are complementary. The test4 SME project aims to provide testing services for electornic products developed by SMEs. Since the SMEs are in product development stage they can also avail the services foffered by Ecolabnet.
Ecolabnet will be able to offer services in bio based materials and 3D printing for SMEs in the electronics sector collaborating with Test4SME project.
Ecolabnet can provide services on design process, product service system development, concept design, user interface design for the SMEs in Test 4 SME. Test 4 SME project partners noticed that a service design approach can be utilized while developing training for laboratory staff who offer the testing to SMEs.
Ecobranding for products , LCA analysis and value chain development are the other services intended to be provided by this network. These are also interesting for electronic SMEs in the product development stage.
Test4SME can provide testing services for SMEs from electronics sector in Ecolabnet.
Since the projects are complementary, the project partners agreed to share information about each other in own channels.