ECOLABNET EVENTS
The project runs from January 2019 to June 2021. During the project, meetings will be organized for SMEs and business intermediary organisations to convey information about the services offered by Ecolabnet. Events will be organized in Denmark, Estonia, Finland, Lithuania, Poland and Sweden .
20.11.2020
Advances in developing bio-based materials and 3D printing technologiesfor environmentally sustainable products | Place:  MS Teams, register to the seminar here and the link to join the platform will be delivered | Program below
10.12.2020
Serving SMEs – Designing research, development and innovation services for eco-innovation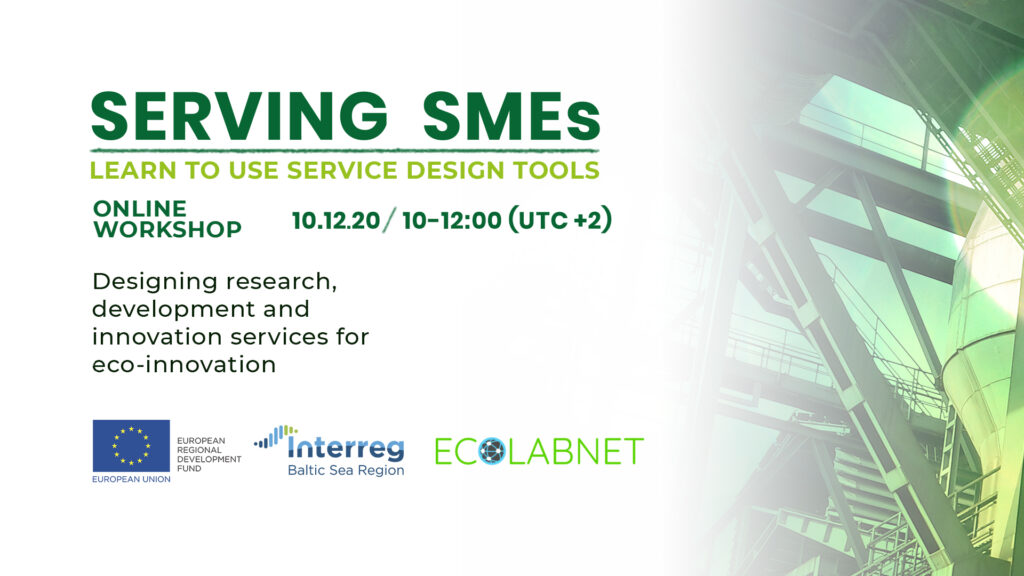 Online workshop by VAMK University of Applied Sciences, Design Centre MUOVA
Learn to use design tools for better knowledge about your SME customers

Strengthen your role in the eyes of industrial SMEs. At the event, you will have the opportunity to learn how to apply service design tools to improve your own RDI services and customer understanding. The length of the workshop is effective two hours and is carried out remotely in Zoom (link below). The event is free for participants.

Content of the event:
1. Training material and videos on service design in the development of RDI services
2. Guidance on the use of methods and evaluation of service ideas
3. Tools for your own use

Problem solving using innovative design methods.

Service design agilely responds to ever-changing situations, challenges and customer needs.
We have created profiles, service ideas and service paths of SMEs based on customer research and interviews. Service design tools make it easier to understand and respond to customer needs. The event includes a discussion and customer-oriented development process of your own organization. How do you serve your industrial SME customers?

At Ecolabnet, we are developing an RDI service network related to eco-innovation and the accessibility of services for SMEs in the manufacturing industry.
Workshop fees: Free
Registration open until 3.11.2020: https://link.webropolsurveys.com/S/6C1AC84D7A230814
For more information please contact: Miia Lammi | miia.lammi@muova.fi | +358 50 408 4969