ECOLABNET EVENTS
The project runs from January 2019 to June 2021. During the project, meetings will be organized for SMEs and business intermediary organisations to convey information about the services offered by Ecolabnet. Events will be organized in Denmark, Estonia, Finland, Lithuania, Poland and Sweden .
17th – 20th MAY 2021 | WEEK TO ECO-INNOVATE | ONLINE EVENTS

A week full of useful information. Come and discuss with experts!
Industries are facing green transition, which requires new solutions, know-how and collaboration. No longer, companies can postpone sustainable development.
The pressure comes from policies, funding, labour markets and end customers influencing the whole supply chain. Ecological aspects are necessary in all business activities: purchasing material and components, product development, production, logistics and marketing. Investing in ecological development creates competitiveness today and in the future.
ECOLABNET organises series of sharp events for manufacturing companies in critical aspects of ecological innovations. In 1,5 hours, you will gain new knowledge, business examples and connections with great experts.
Registration takes place here: https://e-lomake.puv.fi/elomake/lomakkeet/9563/lomake.html You will receive links to events after registration. Feel free to attend more than one event.
ECOLABNET supports manufacturing companies in ecological innovation and creates a network of service providers. ECOLABNET is funded by European Union (European Regional Development Fund) under the Interreg Baltic Sea Region Programme 2014–2020 and the project partners
17th May | 10 am EET – 3D print micro and macro parts
Optical 3D printing in VU LRC: macro- to nano-scales. Mangirdas Malinauskas, Vilnius University, Lithuania

Printing experience: dental models and more. Vaidas Talačka, Labsamera Ltd, Lithuania

Printing large parts for composite industry. Rathish Rajan, Centria UAS, Finland
17th May | 2 pm EET – The ways to eco-brand
Sustainability, communication, and consumer behavior. Rene Claus Larsen, Associate Professor at Via, Denmark

Branding in cooperation with experts. Senior researcher Sanna Peltonen & Account manager, senior designer, Siljamäki Tommi at VAMK Design Centre MUOVA, Finland

Karoliina Hovi, Hovi Creatives, Finland
18th May | 2 pm EET – Bio-based materials for industrial products
Bio-polymers as an alternative. Poul Erik Joergensen, Head of Programme: Product Design and Material Technology at VIA, Denmark

Development of eco-innovative polymeric materials. Jolita Ostrauskaite, professor at KTU, Lithuania

Kaija Pohako-Esko, University of Tartu, Estonia
20th May | 2 pm EET – Innovations to the markets
Road to the markets, Nigel Claridge at Sustainable innovation, Sweden

Lithuanian Innovation Centre – Director – PhD Mantas Vilys

Yasmina Ganse CFO at Spowdi, Sweden

Ecolabnet reserves the right to make changes.
Ecolabnet privacy policy :
PREVIOUS EVENTS
20.11.2020
Advances in developing bio-based materials and 3D printing technologiesfor environmentally sustainable products | Place: MS Teams, register to the seminar here and the link to join the platform will be delivered | Program below
10.12.2020
Serving SMEs – Designing research, development and innovation services for eco-innovation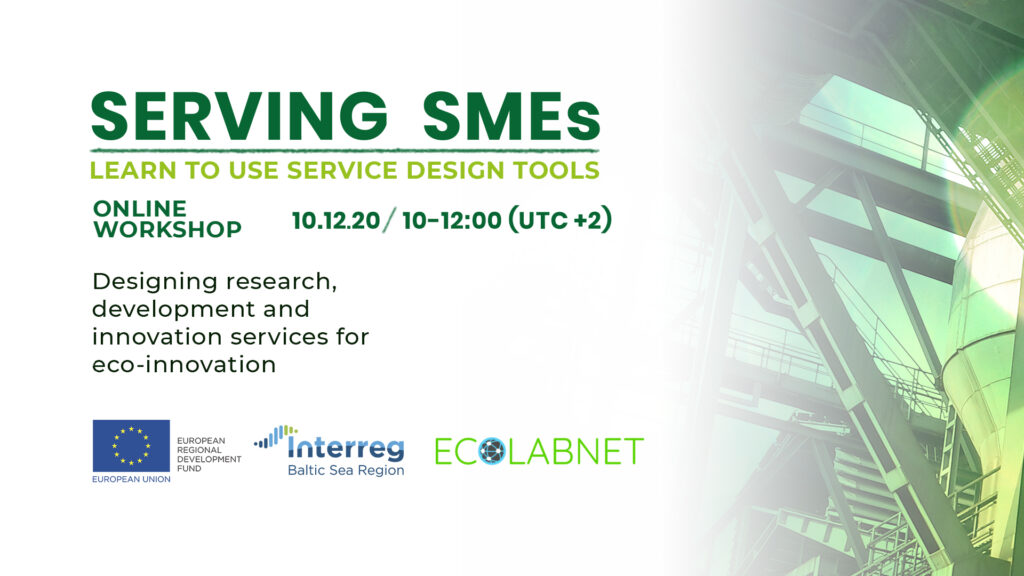 Online workshop by VAMK University of Applied Sciences, Design Centre MUOVA
Learn to use design tools for better knowledge about your SME customers

Strengthen your role in the eyes of industrial SMEs. At the event, you will have the opportunity to learn how to apply service design tools to improve your own RDI services and customer understanding. The length of the workshop is effective two hours and is carried out remotely in Zoom (link below). The event is free for participants.

Content of the event:
1. Training material and videos on service design in the development of RDI services
2. Guidance on the use of methods and evaluation of service ideas
3. Tools for your own use

Problem solving using innovative design methods.

Service design agilely responds to ever-changing situations, challenges and customer needs.
We have created profiles, service ideas and service paths of SMEs based on customer research and interviews. Service design tools make it easier to understand and respond to customer needs. The event includes a discussion and customer-oriented development process of your own organization. How do you serve your industrial SME customers?

At Ecolabnet, we are developing an RDI service network related to eco-innovation and the accessibility of services for SMEs in the manufacturing industry.
Workshop fees: Free
Registration open until 3.11.2020: https://link.webropolsurveys.com/S/6C1AC84D7A230814
For more information please contact: Miia Lammi | miia.lammi@muova.fi | +358 50 408 4969