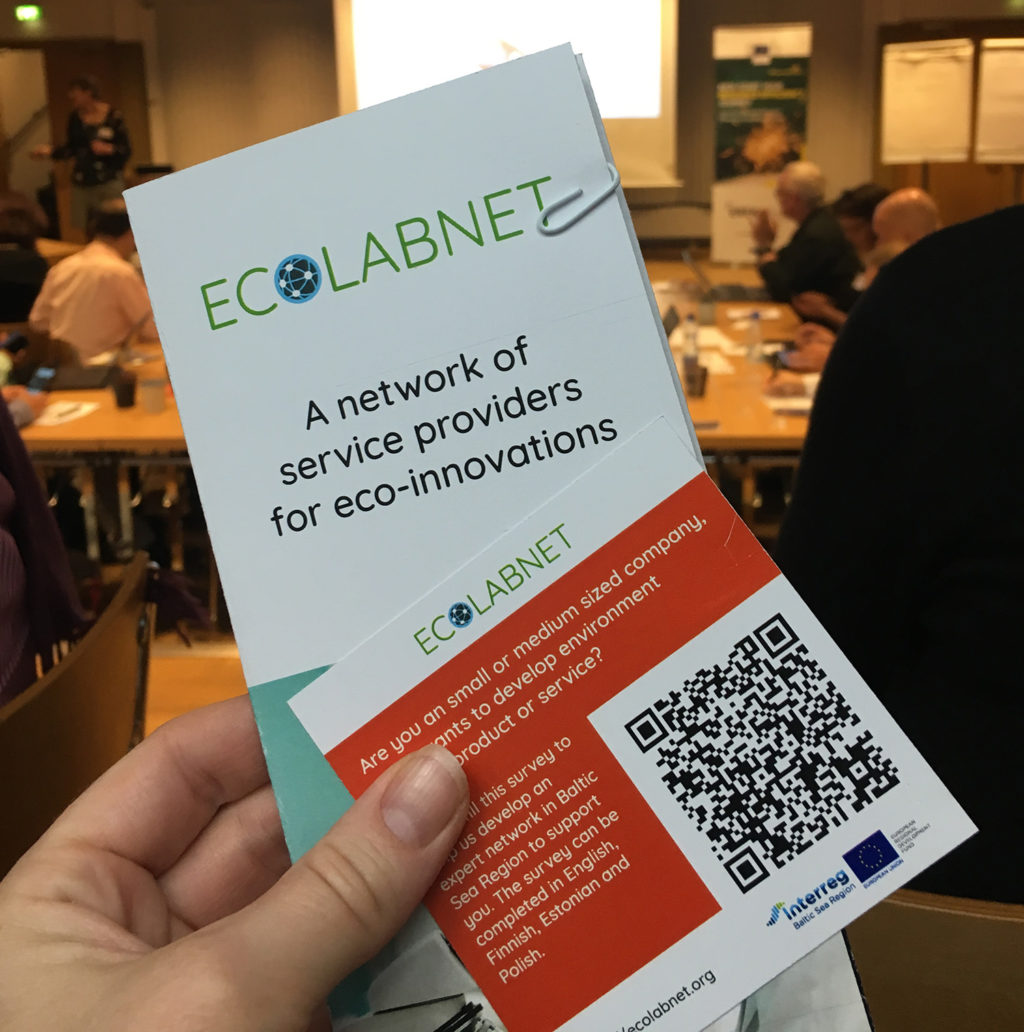 Writers: Miia Lammi & Tommi Silvan, Vaasa university of Applied Sciences, Design Centre MUOVA.
Helsinki, Finland, June 6th, 2019
On June 6th 2019 Miia Lammi and Tommi Silvan from Design Centre Muova, VAMK participated in the workshop "Improving resource efficiency through industrial symbiosis – Opportunities for SMEs" run by the European Resource Efficiency Knowledge Centre – EREK and MOTIVA. The event attracted more than 60 participants from various European countries.
Event aimed at increasing awareness and solutions for resource efficiency and industrial symbiosis. The presentations focused on successful cases and projects for sustainable business. Sarianne Tikkanen's , Ministry of the Environment,  presentation opened Finland's strong investments in the next steps of sustainable development: National road map to circular economy 2.0, muovitiekartta and National waste plan 2023.
European Commission explained about the priorities on business support, industrial symbiosis, circular economy and EREK. Pavel Ruzicka from Enviros, Czech Rebublic, continued about EREK resources and services for SME´s. EREK offers best practices and tools for resource efficiency worth checking.
Peter Laybourn from International Synergies Ltd., UK, held interesting lesson about promoting industrial symbiosis. Also Per Møller from Symbiosis Center Denmark present ideas what they have done to accelerate IS. Main speakers also had interesting panel discussion and SME´s presented their success stories in ecological design.
Miia introduced Ecolabnet project to several organisations and projects and discussed about collaboration possibilities. Tommi discussed with a Finnish company which produce and sell ecological acoustic panels. At the end of the day Miia and Tommi took part in workshop run by Motiva for generating ways to resolve barriers of Industrial Symbiosis. For example, Muova's team proposed an idea about internal agent as an expert for sustainable development that got good feedback.
All in all, the workshop was beneficial. New contacts, knowledge and ideas!
by Tommi Silvan & Miia Lammi
Links:
https://www.sitra.fi/en/projects/critical-move-finnish-road-map-circular-economy-2-0/#authors
https://www.luke.fi/wp-content/uploads/2018/10/Muovitiekartta.pdf
http://julkaisut.valtioneuvosto.fi/handle/10024/160889
https://www.resourceefficient.eu/en
The material and presentations can be found from:
https://www.resourceefficient.eu/en/erek-workshop/erek-finland-workshop-improving-resource-efficiency-through-industrial-symbiosis-%E2%80%93